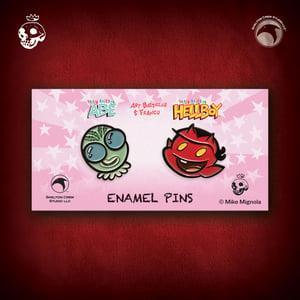 $

20.00
Double the awww — awww yeah!
The Limited Edition itty bitty Hellboy & Abe pin set is straight out of the pages of Art Baltazar & Franco's adorable "itty bitty Hellboy," published by Dark Horse Entertainment and based on the iconic characters created by Mike Mignola. These officially licensed pins are approx. 1-inch tall.
This soft enamel pin set comes mounted together on a pink spangled backboard. Each pin has two pinbacks so your itty is never caught upside down.
Made in China.
Not guaranteed to make anything you pin these to adorable. BUT SO WILL!
EVERY ORDER OVER $50 SHIPS WITH ONE FREE, RANDOM ENAMEL PIN. EVERY DARN ORDER, EVERY DARN DAY!