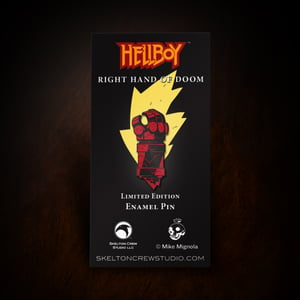 $

10.00
BOOM!
The limited edition enamel Right Hand of Doom pin is torn from the pages of Mike Mignola's iconic "Hellboy," published by Dark Horse Entertainment. This officially licensed pin is approx. 1.375-inches tall.
The limited edition red and black soft enamel pin features Mike Mignola's amazing artwork and comes packaged on a custom backboard. Each has two pin backs so your Hand's never caught upside down.
Our first Limited Edition Enamel B.P.R.D. pin sold out in weeks, so grab it while the grabbing's good!
Made in China.
Not guaranteed to bring about Ragnarok. And let's not try.
** INTERNATIONAL CUSTOMERS, PLEASE NOTE: DUE TO THE PANDEMIC, WE'RE SEEING MUCH SLOWER TRANSIT TIMES, UP TO TWO MONTHS-PLUS. FOR THE STUDIO'S SHIPPING POLICIES, PLEASE SEE OUR FAQ PAGE. YOUR COUNTRY MAY APPLY ADDITIONAL CUSTOM DUTIES OR FEES THAT ARE OUTSIDE OF OUR CONTROL. THANKS! **