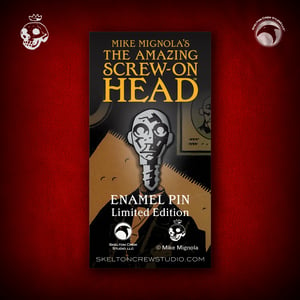 $

10.00
An amazing pin-on head.
The Limited Edition The Amazing Screw-On Head pin is straight from the pages of Mike Mignola's "The Amazing Screw-On Head," published by Dark Horse Entertainment. This officially licensed pin is approx. 1.5-inches tall.
The hard enamel pin features Mike's iconic artwork and comes packaged on a beautiful custom backboard.
Our first Limited Edition B.P.R.D. enamel pin sold out in weeks, so grab them while the grabbing's good!
Made in China. Prototype shown.
Not guaranteed to show that you're the ultimate Mignola fan. But totally will.