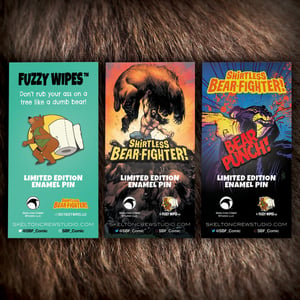 $

25.00
If you're tough enough, you don't need a shirt to wear these pins.
The Ultimate Rugged Limited Edition Enamel Pin Set features three designs based on artwork in the hit comic "Shirtless Bear-Fighter" by Jody Leheup, Sebastian Girner, Nil Vendrell and Mike Spicer, published by Image.
These amazing officially licensed pins measure from approx. 2-inches long to 1.3-inches.
Featured are the Fuzzy Wipes logo (1.25 inches top to, um, squeaky clean bottom), the Shirtless Bear-Fighter logo (2 inches across) and the catchphrase "BEAR PUNCH!" (1.3 inches across).
Each pin is featured on a custom backboard. "BEAR PUNCH!" and the Shirtless Bear-Fighter logo have two rubber-clutched pinbacks to keep them solidly in place — there's no suddenly finding your punch upside down.
Grab them while the grabbin's good! These sets won't last long.
Made in China. Prototypes shown.
Not guaranteed to stave off a bear mauling. Still, might.
EVERY ORDER OVER $50 SHIPS WITH ONE FREE, RANDOM ENAMEL PIN. EVERY DARN ORDER, EVERY DARN DAY!