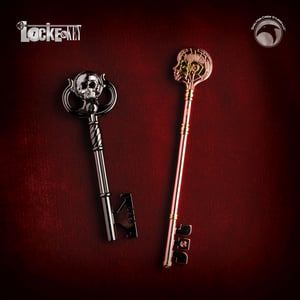 $

50.00
Welcome to Keyhouse. We've been waiting.
This two-key set includes the Legacy Edition II Ghost Key and the Legacy Edition II Head Key, both straight out of the pages of Joe Hill and Gabriel Rodriguez's amazing "Locke & Key" published by IDW. This officially licensed replica measures approx. 3.5-inches long (Ghost) and 4.6-inches long (Head).
The Ghost Key is in black nickel-plated white metal with a silver skull, it's packed in a printed black velvet bag.
The Head Key is cast in bright rose and yellow gold-plated white metal, also it's packed in a printed black velvet bag.
Both new sculpts are by Arlen Pelletier.
Made in China.
Not guaranteed to kickstart your Locke & Key collection before the Netflix series drops. (But it totally will.)
EVERY ORDER OVER $50 SHIPS WITH ONE FREE, RANDOM ENAMEL PIN. EVERY DARN ORDER, EVERY DARN DAY!