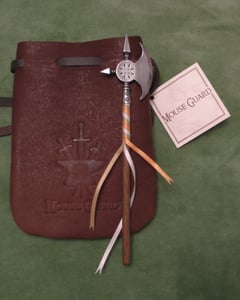 $

34.00
Fit for a matriarch.
Gwendolyn's Pike-Axe is ripped from the pages of David Petersen's acclaimed "Mouse Guard," published by Archaia Entertainment. This officially licensed replica measures approx. 6.5-inches long.
Cast in antique silver-plated pewter, it's hand-numbered, one of 1,000, and packed in a supple brown debossed leather pouch. (It's not weasel skin, but it's close.)
The pike-axe contains some sharp edges. It's a collectible, not intended for children.
Sculpted by John Thompson. The staff is hand-crafted by Kurt Guilbeau.
Not guaranteed to take down traitors — but traitors should watch out, just the same.
Made in the USA