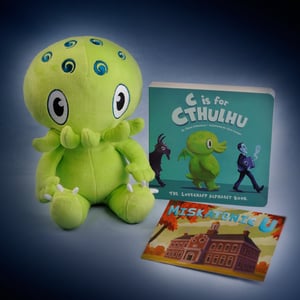 $

40.00 - On Sale
L is for limited.
This summer the studio worked with our good friends at ComixTribe to make the Cthulhu plush for their amazingly successful Kickstarter project.
Now, it's time to spread that creepy cute around a little more.
The studio has 50 Green Cthulhu plush and "C is for Cthulhu" board book combos and since we love an awesome, exclusive extra, we're including in that set a Miskatonic University postcard signed by "C is for Cthulhu" writer Jason Ciaramella and artist Greg Murphy, based on Greg's art!
For the horror fan, the toddler or the deltiologist* in your life!
Made in China. Prototype shown.
Not guaranteed to inspire worship. Still might.
* An actual word! It means postcard collector. Who knew?