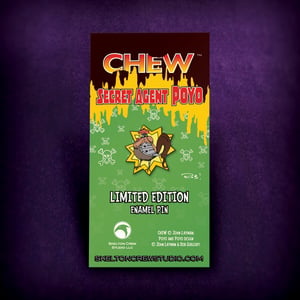 $

10.00
He's Double-0 badass.
The limited edition Secret Agent Poyo enamel pin is straight from John Layman and Rob Guillory's amazing "CHEW," published by Image. This officially licensed pin measures approx. 1.25-inches tall.
Each pin features a custom backboard with Rob's awesome artwork and the rock star Poyo himself.
Made in China. Prototype shown.
Not guaranteed to rip every other pin off your messenger bag, but we wouldn't put it past him.