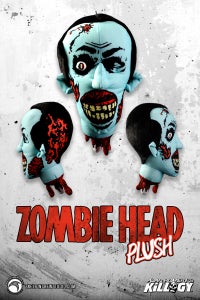 $

20.00
He ain't got no body.
Plush One Eye Tessio springs to life here in full zombie glory, straight from the pages of Alan Robert's amazing "Killogy" comic, published by IDW. This limited edition, officially licensed replica measures approx. 12-inches tall from top of the head to tip of the spine.
Designed by Alan Robert, Tessio is sewn with crazy attention to detail including gruesomely vibrant graphics, a bullet wound in his temple and gashes galore — perfect for a good zombie cuddle.
Made in China. Prototype shown.
Plush One Eye Tessio is a collectible not intended for children. For ages 14 and up.
Not guaranteed to reanimate and seek revenge. But he might, so best to keep him safely sealed in an ice cream container in your fridge like we do.