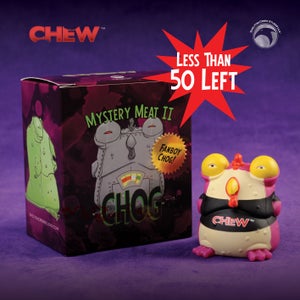 $

12.99
No mystery here this time — you just know it's cool.
The Fanboy mini vinyl Chog is straight from the warped minds at Skelton Crew Studio and John Layman and Rob Guillory, the duo behind "CHEW," published by Image. This officially licensed replica measures approx. 2.25-inches tall.
The first set of seven Chogs in our Mystery Meat blind box vinyl line, a run of 1,500, sold out in June 2016. The Series II run, seven new designs for a run of 1,000, quickly sold out in 2017.
Hot pink and sporting a black "CHEW" t-shirt, we don't expect the Fanboy to last long. Grab him while he's fricken here and hot!
Sculpted by Jamie Macfarlane.
The minis are a collectible, not intended for children. For ages 15 and up.
Made in China.
Not guaranteed to taste like vinyl. Probably do.